Wikipedia says that ATC's are, "Artist trading cards (or ATCs) are miniature works of art about the same size as modern trading cards baseball cards, or 2 1⁄2 by 3 1⁄2 inches (64 mm × 89 mm), small enough to fit inside standard card-collector pockets, sleeves or sheets. The ATC movement developed out of the mail art movement and has its origins in Switzerland. Cards are produced in various media, including dry media (pencils, pens, markers, etc.), wet media (watercolor, acrylic paints, etc.), paper media (in the form of collage, papercuts, found objects, etc.) or even metals or fiber. The cards are usually traded or exchanged.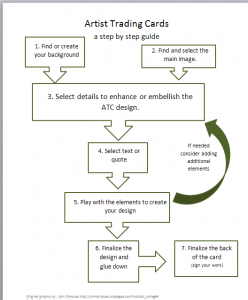 John Dyhouse breaks making an ATC down into 6 simple steps.  I created a word document of the steps and added a few of my own. Artist Trading Cards.docx
Artist Trading Cards .pdf
Find or create your background
Find and select the main image.
Select details to enhance or embellish the ATC design.
Select text or quote (optional)
Play with the elements to create your design
Finalize the design and glue down
Finalize the back of the card
(sign your work)
Ideas for ATC
Art Ed Guru suggests: "Trading Cards: [History, Cultures] Create trading cards (2) for a famous artist in history based on a list provided by the teacher, chosen from a hat, or based on student interest. One card should show the artist, and their personal information on the back, similar to a baseball card. The second should be an artwork they are known for, with an illustration on the front, and simple but pertinent information on the back. These can be presented to the class, but also used later as a matching game to reinforce concepts, or copied and used to make a class set of flashcards for studying."
Follow Janis's board Art Ed. – Artist Trading Cards on Pinterest.
ATC Links: